copyright(C) 2008 : ep3, department of environmental science, major of architecture, musashino university, all rights reserved.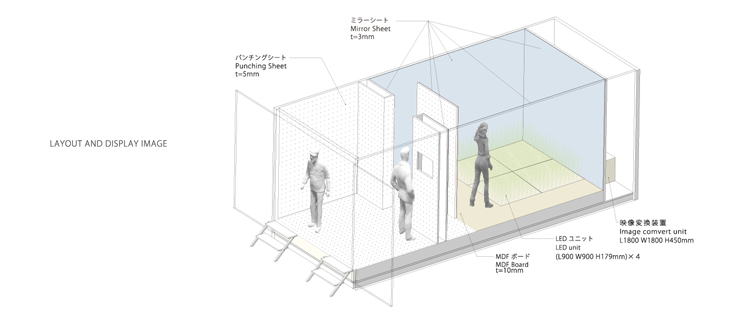 展示方法

コンテナ奥隅のスペースには、フォトン・ガーデンが配置され、 表面反射鏡によって水平方向に無限反射されます。 この単純な光学的効果によって、コンテナという閉じた箱は、 日常的な生活環境から壮大な宇宙空間にまで拡張されます。さらに、床面近くに設置されたウェブカメラを通して見る映像をモニターに同時表示することで、巨大なLEDの森の中を垣間見ることができます。

コンテナ入口のスペースには、フォトンガーデンで立体化される前の断片的な図象が様々なスケールでプリントされています。さらに上映中の発光パターンに対応したモノクロ動画をモニター上で見ることができます。


LAYOUT AND DISPLAY IN A CONTAINER

Photon Garden is placed on the end corner of the container. The inner walls of mirror reflect the photons infinitely. The simple optical effects give the closed small space various scale images from our daily surroundings to the infinite universe. Moreover, the display monitor on the wall gives the view from a web camera set on the floor. The view suggests the image habitable in the boundless LED forest.

Fragmented graphic images with various scales are printed on walls and a floor in the entrance space. And, the display monitor there shows motion graphics simultaneously playing with the luminous patterns of Photon Garden.